Le Visio by O'hara
Characteristic of the ! Le Visio by O'hara
Discover Le Visio by O'hara
Would you like to spend your holidays in a comfortable rental with a panoramic view for 4 people? The Visio by O'Hara is at your disposal: a mobile home with a modern look located on a covered terrace and living room with a bay window overlooking the view of the Marnes Bleues... without neighbours either in front or behind... in a 4-star terraced campsite.
A natrireural layout that gives the rentals a breathtaking view of the surrounding area and an Olympic calm. On your integrated terrace, you will enjoy beautiful evenings to watch the Milky Way and the stars that illuminate the sky in a place without any light pollution.
Cross the bay window and here you are in a living room cleverly arranged for your utmost comfort, overlooking a central island kitchen and two bedrooms for adults and children.
In your Visio by O'Hara mobile home you will find :
1 bedroom with a double bed (140×190)
1 bedroom with 2 single beds (80×190)
1 bathroom + separate WC, with hairdryer
Living room with sliding glass window
7 m² terrace with panoramic view
Fully equipped kitchen with Nespresso coffee maker.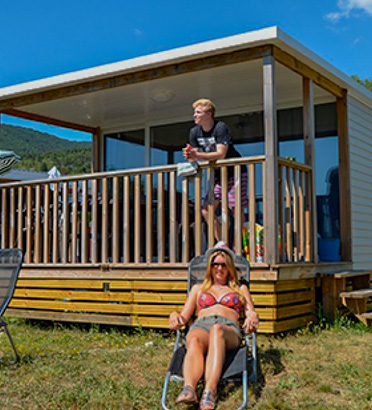 Book now: Le Visio by O'hara